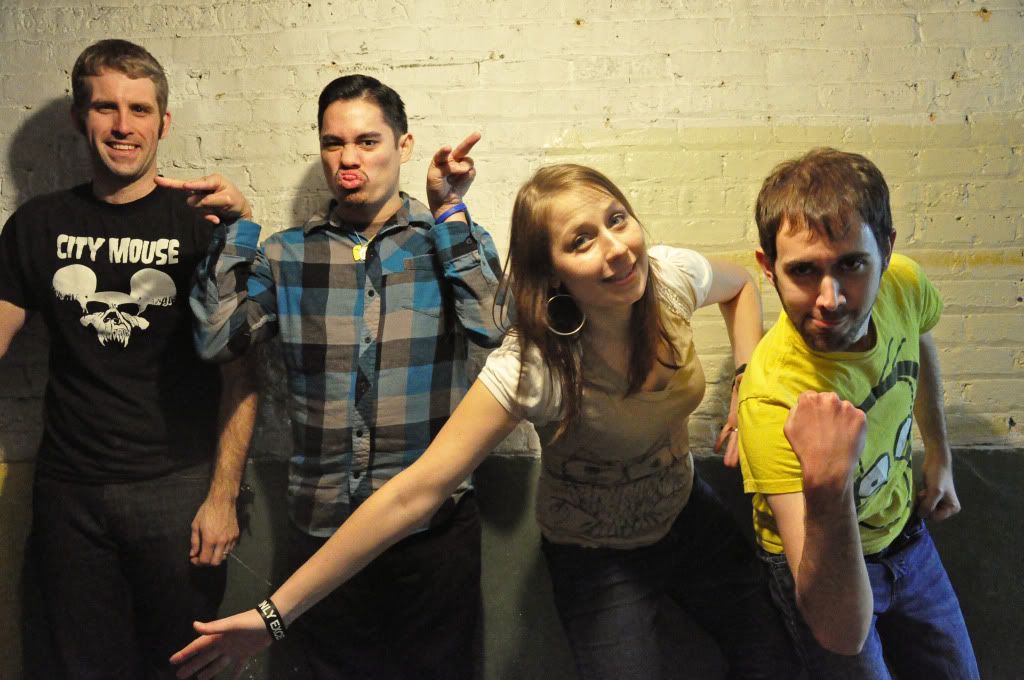 Warhellride is a Chicago based punk rock/rock quartet working hard to inject some fast-paced aggression…and serious good times into a city in much need of it. Welcome to Independent Music Promotions, guys. Please tell us about your new CD release "Without Anchors" EP and what people can expect from it.
Without Anchors is a collection of seven of the most organic songs we were working on at the time. There was a lot more focus paid attention to the song writing this time around. We would classify ourselves as a punk band first and foremost. For this album we drew heavily on our influences from 50's rock to modern power-pop. Think a Bruce Springsteen meets pop punk sandwich.
What do you think of the current punk music scene? Is it thriving?
As pop punk seems to be fading from the spotlight, it is moving back underground. The scene is almost non-existent in the city, but there are a few bands looking to rebuild it. With the decline of the major label and the rise of social media, getting a band together is easier now than ever. Warhallride considers itself among the groups aiming to create a new scene that is as eclectic as we are.
What have you found works well for you as far as promotion goes?
Promoting has really become a growing challenge for new bands. People seem like they have a shorter attention span and are more apathetic towards seeing live music. Everyone only wants to go to a show to see one particular band. Our friends want to know when we play before they come to a show and are inclined to leave immediately thereafter. We can't figure out the cause behind this, but we attribute it to an easier access to media. Now a days people can go on YouTube, find their favorite song, skip to the hook, and be done. Our goal is to get people excited about going to see a new band play live and pour their hearts and souls out in every song.
Tell us about the biggest influences and inspirations that inspired you to play music.
The four of us all have a collection of influences way too long to list, but we all share the same motivation for playing: we love the fuck out of it. There is no better feeling than getting up on stage with your best friends and playing the music we wrote together. We have been at this for 2.5 years and have no desire to stop. Even if we never go anywhere with this band, we've made some kick ass music and have had nothing but great times. That's the beauty of being in a band with people who are all on the same page when it comes to things like that.
Who in the current music scene do you most admire most and why?
Warhellride likes to take note from bands that we see as genuine. By that, we mean those that are out there performing because they love it. It is so easy to distinguish between bands that are having fun and those that are going through the motions. Bands like Gaslight Anthem and people like Butch Walker stand out as two prime examples of what we admire in current music.
Do you have any advice for aspiring independent musicians who may feel disillusioned or discouraged at times?
No matter how frustrated you may get at times, if you are having fun, never ever stop. There are few things in life as rewarding as making music with your friends. As long as the drive to keep playing is there and you are enjoying it, then you're golden. This is no guarantee that anything will ever come of it, but if you are making music to be successful, then you are in the wrong game.
How important is a sense of humour for musicians? You guys have a lot of sarcasm and humour. Do most artists take themselves way too seriously?
In any art, a sense of humor is vital. As you go along, you will fall. The best thing you can do is pick yourself up and laugh it off. If you take yourself too seriously, you end up becoming a joke. (Irony?) Most of our favorite bands to play with and be around are the ones that we can all laugh and joke with. The ones that are way too serious come off as dickish. It's a lot harder to get into a band if you find out they suck as people.
How can music fans keep tabs on WarHellRide?
The easiest way to keep tabs on us is through our website: warhellridemusic.com. We update it regularly with band news, show dates, studio news, new songs, and videos. If you don't like that, all of this stuff ends up on facebook: facebook.com/warhellride. You're best bet is to just google, "Warhellride", and let the Internet do the rest.
---